Bismillahir Rahmanir Raheem (In the name of God, the most gracious, most merciful)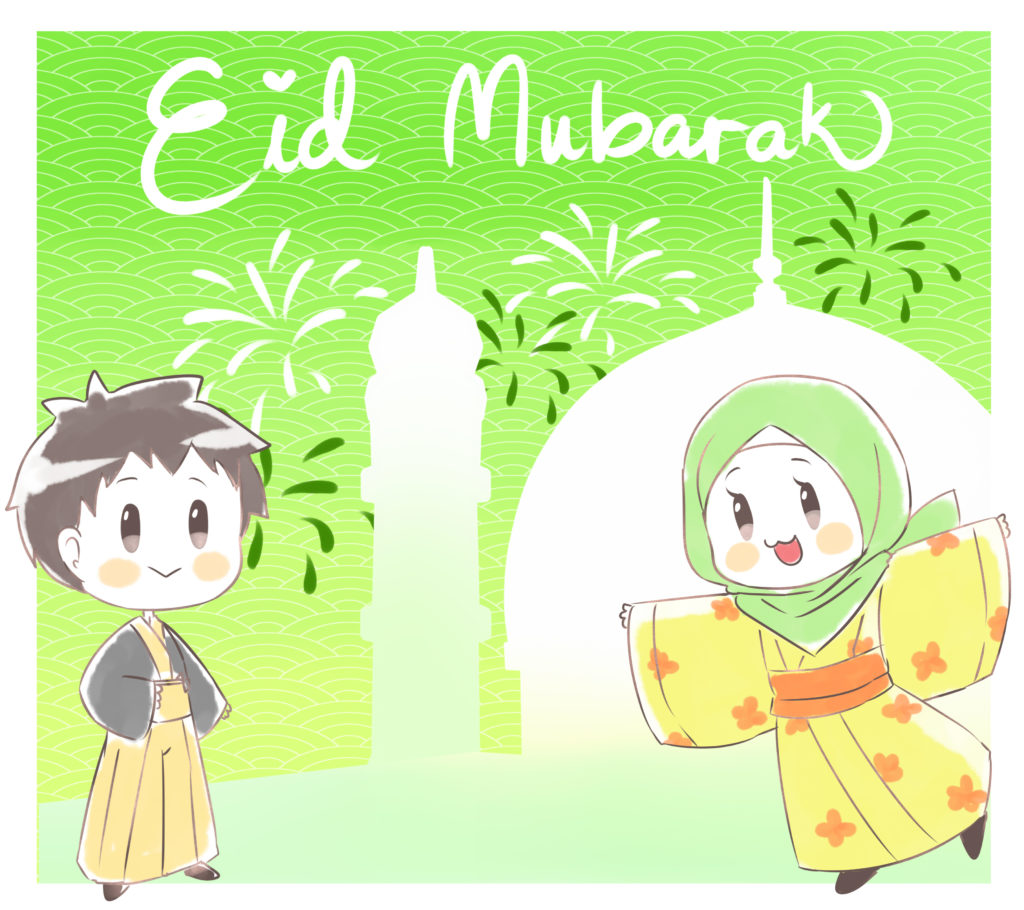 Celebrating Eid ul Fitre: Share the Joy & Spread the Love. Assalamu Alaikum Everyone!
May the peace & blessings of God be with you. It's that time of the year again. The most blessed month is finally here with us, so Ramadan Kareem to you & your family from all of us at Muslim Manga~
To fast means to experience sincerity, to observe our shortcomings, contradictions and failings. Also, to no longer to attempt to hide or to lie, but instead to focus our efforts on the search for ourselves and for the meaning and priorities of our lives. One of the main teachings of Ramadan is learning to think not only about one's self but also about the people around them, to simply to reflect and to love. And after this blessed month comes to us another joyful event, Eid-ul-Fitre, which is the biggest celebration of the Muslim Ummah.
So this time, Muslim Manga has arranged a contest to celebrate these two joyous occasion! _)/
Contest Theme:
---
"Celebrating Eid ul Fitre: Share the Joy & Spread the Love."
Task:
---
For this contest, you will have to make a drawing or a writing following the given theme and the drawing can even be a one page/short manga if you wish to.
Rules:
---
Entry must be according to the given theme.
multiple entries are allowed. Only one can win
Characters must be dressed decently (no tight/revealing clothing).
If you are interested in joining, please leave a comment below! Keep in mind that it is not compulsory, but it does helps us keep things organized.
Do not break any of Muslim Manga's general submission rules. (if you have any question or doubts, let us know)
Write "MuslimManga.org" in the bottom corner of your artwork . Send original files to [email protected]
entries are judged primarily based on message and the effectiveness of it.
Prizes:
---
1st place: drawing by Fal
2nd place: drawing by Sirimran
3rd place: pending..
If you wish to to donate a prize, please contact us at the email address listed below.
Submit
---
Visit MuslimManga.org/gallery & create an account (if you don't already have one) and then upload your contest submission on MuslimManga.org/gallery
Deadline:
---
July 15th
Questions:
---
If you have any questions, please ask them below, in the comment section.
Or, send us an email to [email protected]
Everyone is invited to take part in this contest. Let this Ramadan be a chance for you to explore yourself, share the joy of Eid & keep spreading love question.