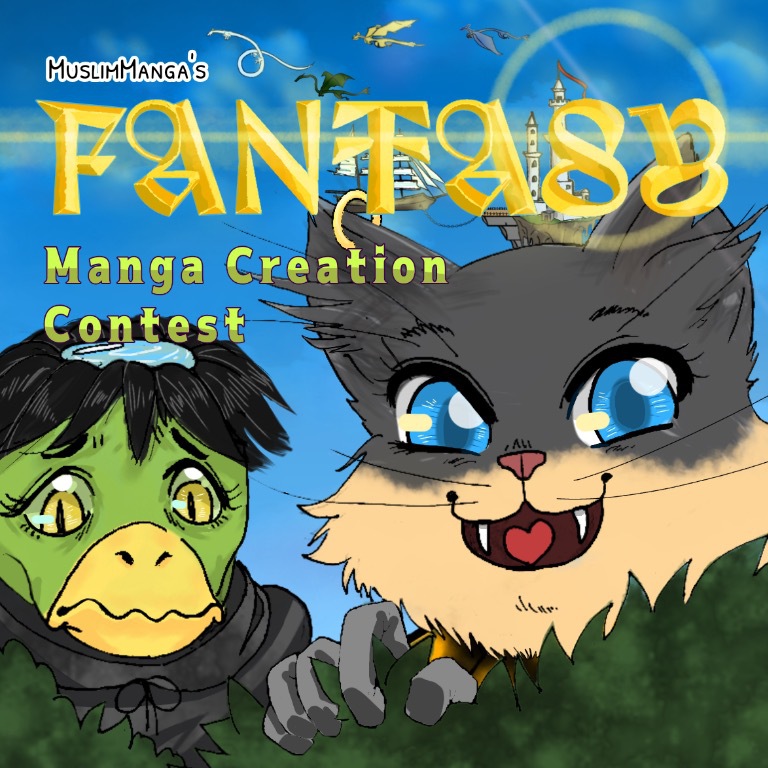 Manga Contest: "Fantasy"
Important Update: It appears the time space continuum of 2020 has affected the duration of the Fantasy Contest by a month!
New Deadline: The contest has been extended to January the 31th 2020 (11:59 pm EST)!
About the Theme
Assalam Ue Alaikum Muslim Manga Community! Muslim Manga is back with another contest, that we hope will inspire your creative streak, surpassing the boundaries of reality and into the genre of fantasy! Do you like your Manga with a touch of magical elements, a sprinkle of dragons, or even a talking unicorn or two? Well now is the chance to showcase your imaginative ideas and talent into a Manga, following the guidelines below, with an aim to create the most fantastical, fantasy-themed entry and have fun along the way.
About the Contest
 This contest focuses on the theme of fantasy aspects in art and storytelling, which can draw from all kinds of sources, like famous fairy tales, local legends, or even figments of your own imagination. Since fantasy allows a lot of creative freedom, it has an emphasis on creativity drawn from aspects of the genre into your artwork, such as fantasy creatures and powers / abilities. Your job is to create one (1) hand drawn or digitally created Manga of four pages minimum. The cover page does NOT count as a page. Your Manga can include characters and stories entirely your own, or be a mashup of well-loved fantasy tales so long as credit is given to the source / owners of your ideas or any characters. The focus of your Manga should convey a small story / scene or positive message.
Rules
It has to be one hand drawn or digitally created Manga of four pages minimum.
Follow the theme of fantasy and include at least one aspect / element of this theme in your Manga.
Submissions must be respectful and not stray towards any inappropriate content (in terms of language, message, or obscenity).
Present your work in English (other languages are welcome, as long as translations are provided).
Include the following somewhere on your submission: Name, title of work, and the name of the contest it is being entered for.
Coloured pictures are not a must, if your artstyle does not require it.
No plagiarism of other works, if your Manga is a mashup please give credit to all original sources.
Please follow the general submission rules described above and under "Submissions". Questions are welcome.
Duration
The contest will begin November the 22th 2019 (12:00 am EST) and will end January the 31th 2020 (11:59 pm EST).
Submissions
Write MuslimManga.org at the bottom of your work, and send original files to

[email protected]

for submission.
For Digital Submissions: You may send them as a jpeg, png, or pdf file. Ensure that it is easy to open and does not require a specific software to run it (we only need to see your work, and do not require access to see changes or edits).
For Traditional Submissions : You may scan and send them as any of the above file types. You can also take a picture of your submission. Rules for the Pictures:

Make them easy to view for every detail (not taken from too far away or from too close)
Get them under good lighting, so that no part of your picture is clouded by shadow or lit too brightly to see.
Ensure any dialogue / writing is legible.
Make the coloration / any additional features of your image easy to view.

Entries will be judged primarily based on creativity, quality of Manga constructed (ex. clear, neat pictures, engaging premise), and correlation with theme.
Remember, submit the entry for the contest ON TIME.
Prizes 
First Place Winner

A chance to collaborate with Muslim Manga's own artists and editors on a featured Muslim Manga comic, plus a shout out on social media. Muslim Manga will contact the winner for the collaboration Manga.

Two Runner-Ups:

Will receive a congradulatory sketch from Muslim Manga artists, plus a shout-out on social media